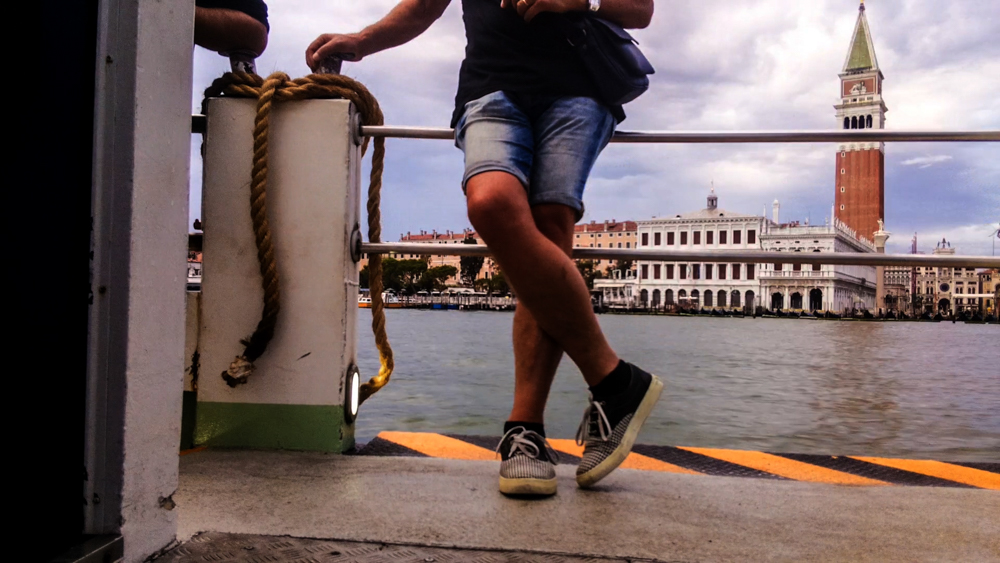 Stakes in the Muck (2017)
Stakes in the Muck uses the city's architectural design—as one built on posts in the Venetian Lagoon—as a metaphor for the precarity of artistic labour at the Venice Biennale.
Actions include: mixing salt and food coloring with water; dropping gilded ring into bowl; submerging face in water and retrieving ring with teeth; filing off gilding while walking through audience, showing each person the ring; continue filing ring until end of the video, when ring and file are placed on table and I exit the space.
The 30 minute video incorporates images and sounds from Venice, capturing the liminal spaces of the city. Some footage was shot using a time lapse camera made with a Raspberry Pi Zero attached to the bottom of a stroller and audio was recorded with a contact microphone and hydophone. The narrated text draws together observations of Venice from a tourist perspective as the setting for the Venice Biennale, the experiences of Elaine McGinn (from "A Reluctant Goddess") participating in a group performance during the Biennale opening week, and poems by Veronica Franco, 16th century Venetian poet and courtesan. These various elements are woven together through considerations of precarity and illusions of stability.
The performance took place at the Venice Biennale Research Pavilion, curated by Gradcam, with support from Culture Ireland.
Video by EL Putnam
Audio by David Stalling
Text narrated by EL Putnam, David Stalling, Elaine McGinn, and Simonetta Moro
Photos by John Beattie